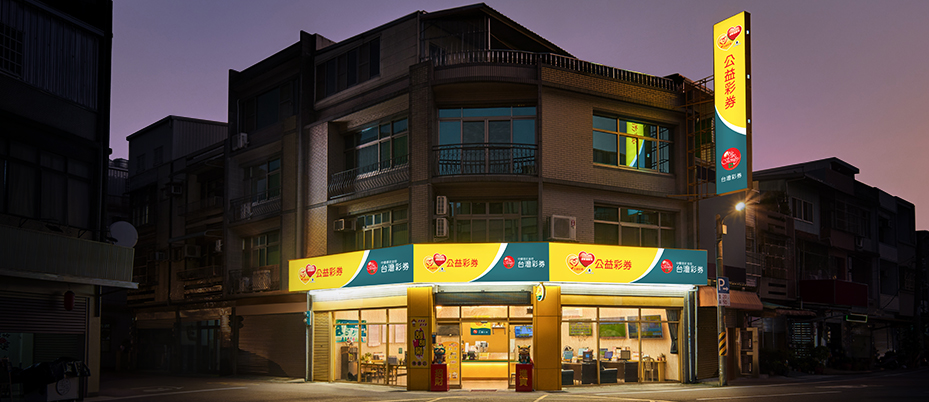 CTBC Holding struck the jackpot when it won the right to administer Taiwan's national lottery, and we don't mean in monetary terms. Running the lottery allows us to give back to the community and help its most vulnerable members in very real ways.
This official state-sanctioned lottery is, with few exceptions, the only legal form of gambling in Taiwan, where the activity is tightly regulated. The intent of the lottery is clear in the program's formal name: the public welfare lottery. By letting the public enjoy the occasional wager, it raises funds for good and creates employment opportunities for those who need them.
With storefronts the length and breadth of the country, Taiwan Lottery is responsible for everything from making and marketing lottery tickets to drawing the numbers and dispersing the prize money. In addition to tickets for lottery draws, scratch cards are also available.
Taiwan Lottery was officially registered as a subsidiary in 2006, after CTBC Holding won the bid to administer the public welfare lottery from 2007 to 2013. In that time, we provided over NT$2 billion every year to fund government social welfare programs. Our steady stewardship of the lottery saw us chosen to continue operating it from 2014 through 2023. Since then, we have raised NT$2.7 billion every year.
But that's not the only way we're helping.
More than 40,000 people earn a livelihood by selling lottery tickets, with the majority of them from disadvantaged and marginalized groups, including, single parents, indigenous people, and those with mental or physical impairments. For each lottery ticket sold, they receive an 8%–10% commission. We also encourage prize winners to donate a portion of their jackpots. As of the end of 2021, these contributions totaled NT$5.4 billion, going to more than 200 welfare groups, funding over 1,293 grassroots projects, and ultimately helping 7.55 million people.
More recently, Taiwan Lottery has focused on providing innovative and engaging new products. By examining international trends and local preferences, we are developing and launching new prizes, ways to play, and ticket designs as well as fresh marketing and digitalization campaigns.
We sought to administer the lottery because we share its values and knew we could best help it realize its goals. We're proud to say we've done this, and in doing so have realized our aim to give back to the community and fulfill our corporate social responsibility.